Alf.io is a free and open source event attendance management system, developed for event organizers who care about privacy, security and fair pricing policy for their customers.
It features an ecosystem of tools to cover the lifecycle of an event from ticket distribution, to event management, to reporting.
Public, the ticket shop, where people can reserve/buy their tickets

Alf.io supports payments through Stripe (Credit Cards), Mollie (Credit Cards, iDEAL, Bancontact, ING Home Pay, Belfius, KBC/CBC, Przelewy24), Revolut, Paypal, Bank Transfer, as well as on-site payments. It is possible to integrate it with 3rd party tools (eg. a CRM system) through Extensions.

Backoffice, the admin area for the event organizers

Mobile app available for iOS and Android, which can be used by:

Check-in operators, to perform check-in of attendees for small events, or where on-site printing is not needed
Sponsors/Exhibitors, to scan attendees' badges and collect leads

RaspberryPI-powered, touchscreen, offline-capable, high throughput check-in station for performing check-in for big events and printing attendees' badges on-site.

Upon first startup, stations form a cluster and download an encrypted list of attendees from the Alf.io instance. Data related to an attendee can be decrypted only upon scanning their ticket.
Thanks to the resilient architecture, stations can operate offline and still guarantee that one ticket cannot be checked in twice on two different stations.
Do you organize Conferences, trade shows, workshops, meetups? Here's how alf.io can help you: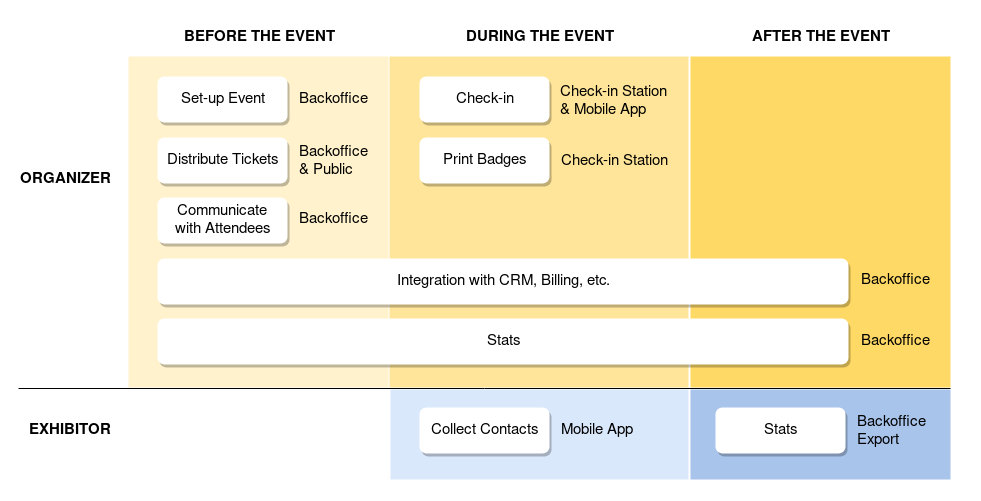 tap to open in a new window
Free, as in Freedom
Alf.io is free software. You can use it whenever and wherever you want. You can also modify and redistribute it.
Secure
Alf.io has been built with security in mind. Because you care about your user's data. It serves pages using HTTPS protocol and with strict Content Security Policy rules
Mobile Ready
The GUI has been built upon the wonderful Twitter Bootstrap framework, which is "mobile-first". The best user experience on each device
Fair
Keep control of your event and keep attendees data away from big players. Don't annoy them with additional fees and pay only what is really needed!
PCI-Compliant
Alf.io supports Stripe and Mollie as gateways for payments done by credit card. This means that no sensitive data will be stored on your server and you'll be automatically compliant with the strictest PCI requirements.
Flexible
You can define free-of-charge as well as paid events. You can allow your users either to pre-pay the ticket by credit cardⁱ or PayPal, post-pay it by bank transfer, or even pay it at the entrance desk.
ⁱ The event organizer needs a Stripe or Mollie account in order to get paid. No registration is required for the attendees
Measurable
Simply create a Google Analytics™ account and configure your metrics. All the URLs are unique and let you analyze the incoming traffic. Anonymous statistics and IP-Address scrambling are enabled by default, so you are already compliant with EU "cookie law".
Cloud ready
Already tested and deployed on:
Usage map:
Alf.io doesn't send any usage statistics and/or metrics to us. Because we respect your privacy.
These are the organizers we know about, and we'd love to know where are you using it, so that we can show it on the map below.
Tell us about you!
Sponsors
Open Source does not mean free of charge, it means freedom.
Although the code and the binaries might be free of charge, and therefore cheap, the time of the contributors is not.
There are some companies which are investing in alf.io, even if just for one feature, and we would like to thank them for helping the project.
Financial Contributors
Become a financial contributor and help us sustain our community. [Contribute]
Individuals
Organizations
Support this project with your organization. Your logo will show up here with a link to your website. [Contribute]